Hey Everyone!
The team is currently packing up and planning an all nighter for the flight tomorrow. We will be departing at 3 am and taking off for home. But before our long journey begins we wanted to let you know what has happened for the last couple of days.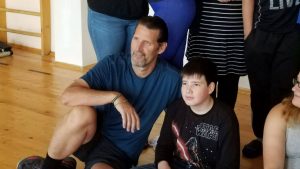 Friday was a special day for the teen group. We started off the day doing our usual morning routine with the kids, but we returned that evening after dinner for a dance party! We got some music playing, brought nail polish, and took polaroid photos of the kids that they can keep. We had so much fun just being with the kids and hanging out. Then Saturday for our craft we made picture frames with the kids for their photos. We spent the day inside because it was raining again, but still played lots of fun games. We also performed the life house-everything skit about the girl facing life's peer pressures. It was really cool to see the team come together to put on the skit, and to also see the kids' reaction to the skit. You could tell they were moved and interested in what was happening. Emily killed it with the teen discussion group explaining how she faced similar pressures and how she responded.
Sunday was our last day at the center. It was the hardest day for all of us. We went outside with the kids again, which was really special. We taught the teens how to play ultimate Frisbee, then ended the morning sitting outside chatting about life. We gave out gifts to the kids and were amazed at the gifts they had prepared for us. Tears were shed, hugs were given, and goodbyes and I love you's were said. However, I know the impact each of those kids had on this teams' lives will never fade.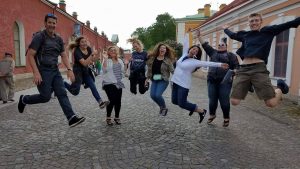 After lunch, we went to Tanya's apartment in the city to begin debriefing. We drew, journaled, and even made a skit about our time here in Russia. We spent time together and encouraged one another as we processed our time here and what it meant to each of us. Our last day, today, was spent finishing our debriefing and some last bit of tourism. We went to Saint Isaac's cathedral. We climbed to the top and could see the entire city. It was spectacular! After the cathedral, we went out to dinner with our translators to Pizza Hut. (we all really enjoyed our pizza) It was fun to spend time with them and learn more about them outside of the center. All in all, that is our last few days in a nutshell. We are excited to be home and share with you more about our experiences! Team B is coming not long after us and will be working in the same ministry so keep checking out the blog to keep hearing about this amazing ministry and these kids!
This slideshow requires JavaScript.