Our 3rd team has arrived!
Today we spent the day learning some Russian and cultural norms. Then we were off to see one of the largest Cathedrals in the city: St Isaac's! So beautiful and grand is the architecture and art. We climbed the 200 steps to the top and saw the views of the city.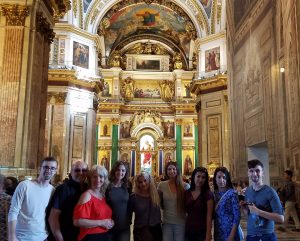 The afternoon was spent strolling along the Petergoff Fountains, at the Summer Palace outside the city. We took a boat both ways, making it the fastest way to get to the gardens.
We barely stayed awake to plan for tomorrow and debrief the day. Tomorrow we meet the kids! Please keep us in your prayers as we start the camp and build relationships with the kids and teens.
Until next time!
The Image Church Team.
– Please comment bellow a word of encouragement and it will be read to the team.