Preevyet from Eastern Europe!
We arrived in country at 11:00pm and we were amazed that it was still light outside. The place that we are staying is a dorm at a Christian college in the city. They rent the building out as a hostel throughout the summer, which is how they get revenue to operate the college. Farnum and Ben are in a room together, so are Maddie, Erika, and Anna. Kylee, Myrna, and Tanya are together and then the three of us (Loran, Emily, and Sarah) are roommates!
The first day, we started at 9:00am with breakfast. We were impressed with the food and met our hilarious, fabulous, animated cook/friend Valentin. We then had cultural orientation and we were excited to become more acquainted with the people we would be spending so much time with. We had a lesson about the metro and had to put that into practice right away when we began our sightseeing in the heart of the city.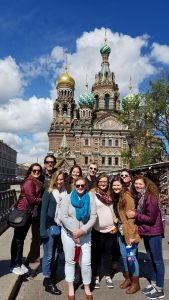 The first place we visited was the Spilled Blood Cathedral, which was incredible and beautiful. It was covered in mosaic representations of Bible stories and we were awe-struck. Next we went to the central Orthodox Church to experience the religion that the majority of the country still practices. The women of our team wore head coverings out of respect for the faith.
As we walked to the church, we each received a white flower made by a child in celebration of National Children's Day. It was a good reminder that even though we were sightseeing, the reason we are here is for the kids.
Today was our first day with the kids. We were anxious and excited to meet them. The time we spent with them exceeded our expectations. None of it would have been possible without our awesome translators. Sarah worked with the little kids (3-11) and her favorite part of the day was getting to know them. She said that the kids warmed up to them easily and were so excited to have someone there to play with and spend time with. Even though there was a language barrier, they formed some strong bonds and the kids were already excited to see them again tomorrow.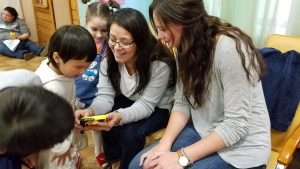 Loran and Emily worked with the teens (12-17). Emily was nervous to lead the lesson, but they received her well and were open and vulnerable with sharing and participating. Overall, the kids were filled with energy and were excited that we were there. They asked why we were here and were pleasantly surprised to know that it was just for them. They made us sweet cards and friendship bracelets and had fun playing sports with Farnum. We are all excited to go back tomorrow.
Much love –  Sarah, Loran, and Emily
This slideshow requires JavaScript.