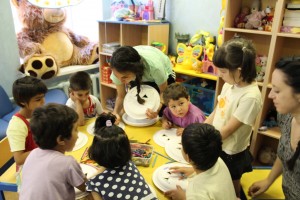 Well, friends, the start to our week has been anything less than busy! It's been a great two days at the orphanage so far and we love getting to know the kids and teens. Our plans haven't exactly gone as we'd hoped, but God's plan always prevails and that's what truly matters. During a very important block of time for the staff, we were able to play with the kids and make lion's masks out of paper plates. They loved it! One of the best parts was when they pretended to scare us and then said, "It's me!" They are so energetic and have really opened up to us the last few days. Because there are four of us and ten of them, we are actually getting to spend time with each one.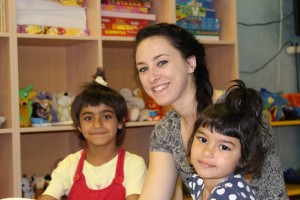 Our time with the teens was much different. After we did a small skit about courage, concerning David and Goliath, we played capture the flag and attempted a team-building activity we learned through our SPU SPRINT training. They had to lower a stick to the ground while remaining silent and using only their fingers. While the four of us failed miserably at the task, they did it no problem! The team joked of flashbacks and the memories of one of the first times we had to work together as a team after just meeting each other. The teens taught us a game with a soccer ball and goal, which was pretty fun as well. A few of us "non-futbol" players learned how to elevate the ball without using our hands. When we were tired from the heat and running around, we sat with them and discussed a variety of "table topics," mostly the get-to-know-you type things. We talked music, TV shows, movies, Iron Man, and travel. We got some recommendations on books and places we should visit in St. Petersburg. They are willing to just sit and have a conversation with us all, and that has really opened our hearts (even more) as well. No language barrier can stand in our way!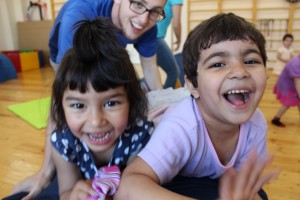 In our devotions tonight, McKenzie had us read Mark 5:37, where Jesus feeds the five thousand. We are reminded that, while our craft supplies may be low and our plans aren't always as smooth as they should be, we are working with what we have to our best ability and God will provide. Thaddaeus reminded us of the disciples and the way in which they diligently obeyed Jesus' request without knowing exactly what was going to happen. The same applies to the team. We have decided to follow God in Russia and do His work, and that comes with a lot of unknown territory. The four of us believe we are called for such a time as this, and we are going to hand out the bread baskets until we can walk no longer.
We appreciate your love and prayers!
See more pictures bellow…
This slideshow requires JavaScript.