Camp is over and Amanda is back in Saint Petersburg. Here is what she writes:
It's been a crazy, yet beautiful week and a half at the camp for disabled youth! It's right on the Gulf of Finland and the beauty of God's creation is everywhere. I was without technology the whole time and it was a beautiful thing to just be in the midst of nature without outside distractions. Living in a tent and camping for 10 days was very difficult, but God taught me so much.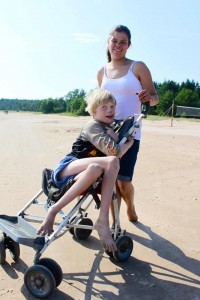 During the course of the camp I helped with two different kids on alternating days. I was blessed with the opportunity to work with Vasya and Veronika. They had very different needs but neither of them could talk. It made me think about how lonely, frustrating, and devastating it must be to not be able to communicate through language. It's hard for me when I can't talk to everyone because I don't know enough Russian; I cannot begin to imagine what it's like for these kids who can't talk to anyone their whole life!
Each day after we ate breakfast, the staff would wake up the kids and were with them almost non-stop until they put them to bed. My job was to assist the staff working with Vasya and Veronika. Sometimes I would feed them a meal or take them on a walk. At other times I would chase after them or help them participate in a group activity.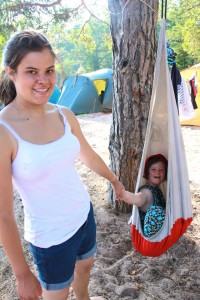 One of my favorite things to do was tell their worker to go take a break and watch the kids on my own. They were always so excited to have some much needed free-time. This year, some kids from the transit center came as well and I had some opportunities to spend time with them and watch them interact with the disabled youth. Along the way, I got to know some of the staff and had some really good conversations with them. I hope that I can continue some of those conversations via e-mail or messaging.
Thank you so much for all of your support and prayers! Please pray for me this week as I rest, regroup, and get ready for the transit center camp in August. Please pray that I don't forget what God has been teaching me and that I continue to apply it to my life.